parti colored havanese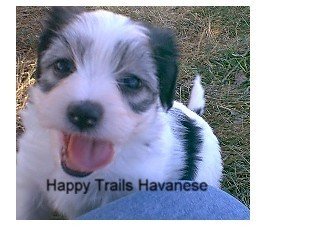 This is Biscuit as a 5 week old pup, she is a silver parti color, (a parti color must have it's coloring on it's back broken with a second color somewhere.   You can see she is black on her ears and her spot in the center of her body.   This black will lighten to a silver by the time she is 2 (as you can see in the next photo's)
the silver change process is very slow in havanese, but shows up around 4 weeks of age in puppies.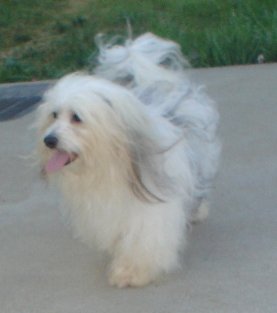 this is the same dog, Biscuit.   As a 4 year old in the picture, you can see she kept her silvering color and also
got cream on her face as she aged.   The cream was quite a surprise, since she showed no signs of cream as a puppy.




black parti colored puppy                    gold sable parti colored puppy                    black parti colored puppy
parti colors can come in many colors, black parti, red parti, gold sable parti, red sable parti , dark sable parti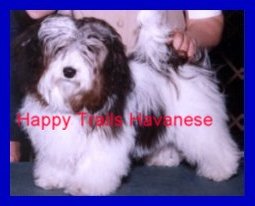 This is Fancy, you can see she is  a black and white parti color.   She is very unique with having
silver on top of her head as well as some brown around her face.