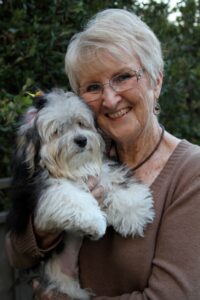 Welcome to Happy Trails Havanese, my name is Marlene Nolting and I live here in the Loess Hills in Magnolia Iowa with my havanese dogs and family..   I am a havanese breeder, who tries to breed for the whole package everytime, from the happy havanese personality and healthy havanese dogs to exceptional havanese coat  type in a rainbow of havanese color. Size of our havanese is also very important, being in the correct havanese breed standards. See our puppies for sale to find your new havanese baby to love.
Havanese puppies have got to be one of the most delightful joys we have on earth. A havanese puppy can come in a rainbow of colors, most often the color of your puppy will change a bit by the time they reach adulthood.
The havanese dogs are a cousin to the Bichon Frise, they are a lively little robust dog. A havanese puppy will play tirelessly from dawn to dusk, always happy, bouncy and a wonderful addition to the family.
The havanese can come in a rainbow of colors, and does have the possibilty of changing colors as it grows from a young puppy to an adult havanese. In fact, the havanese can change colors several times before they are a year old.
All of our havanese puppies are raised in our home as part of our family, they always come pre-spoiled, vet-checked and health guaranteed.
If you are looking for a havanese to become a part of your family, and yes, they will become a part of your family, "my havanese wash my face daily", then please inquire about the availability: [email protected]