This is Yogi Bear, she is a beautiful black havanese here at Happy Trails Havanese.

Yogi Bear has one of the most beautiful coats, he coat flows like silk and she is perfect in size, being just 8 1/2 pounds.  

Here at Happy Trails Havanese I feel like she has alot to give to the havanese breed.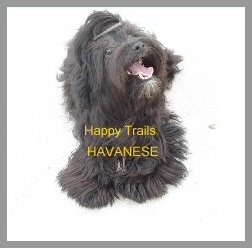 Yogi Bear currently has a new litter of  havanese puppies.
They will be posted on the nursery page by the end of the month (Spetember 2005).  At the time of writing this the whole litter is available.  I don't believe in taking deposits on litters before a litter is born, too  many things can go wrong with a new litter.  Once the pupies are posted, they will be placed on a first come, first serve basis.  

Typical of the havanese color gene, you can never predict the color of a litter of havanese, since the havanese carry all color genes.  Yogi Bear has no black puppies only parti's, and sable parti's.
Who would have guessed?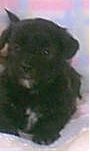 A black havanese puppy is of course born black.   At 8 weeks old it is possible to tell if the puppy will lighten to a silver or steel blue by adulthood.  Silver hairs will come in on the pads of the feet and then it will lighten around the eyes, continuing throughout the coat until 2 years of age.

Love havanese, they are not only the cutest puppies on the web, they melt your heart when you become a new havanese puppy owner !!    Check out our puppy page , for available havanese puppies !