Sweet little Hannah, this is our Hannah. She is a beautiful sable and white color. The sable color is very unique in the havanese breed. The sable color in the havanese breed has black running thru it as a puppy. Around 8-10 weeks old, the black hair change pigment at the roots, turning a golden. With the first haircut teh black tipping will be cut off and gone forever, with theexception of the ears and tail, the black/grey will stay there forever.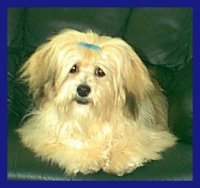 Hannah is a pretty sable and white
havanese. Note the black/grey color she kept in her ears. Picture is taken in a full show coat.